West Bengal is counted as one of the most cultured Indian states. It has a beautiful culture and heritage that makes it different from the other states. The delectable Bengali dishes have won the hearts of millions of people across the globe. You will love to taste its cuisines. Bengal is also famous for its beautiful and well-known attires. Bengal is also the home of the traditional weaving industry. Some parts or districts of Bengal are famous for weaving and artistic works. The goods from these places are sent to other areas of the country. Sometimes it is also sent  abroad.
Traditional dress of men in West Bengal:
You will love to know about the traditional dress of men in West Bengal. The attire of both men and women in Bengal is elegant and pleasing
Most men in Bengal wear Dhoti and Punjabi. It is a typical dress of men in Bengal. However, there have been immense changes in the dressing pattern with time. Men wear jeans and shirt or pants. The dhotis are made of pure cotton material. You can also find men wearing tussar dhotis during weddings or pujas. Even the Bengali grooms wear dhoti and Punjabi during weddings. The Punjabis are nicely embroidered and designed.
In many places, you will also get men wearing Pajama and Punjabi. The Pajamas are white in color. The Punjabis are well decorated with embroideries. They enhance the look of the men. Most time, Bengali men wear short kurtas with pants or pajamas. It is a comfortable wear that the men can easily wear. The kurtas are found in various colors and materials. You can choose the suitable one for your purpose.
The men of this tribe wear white dhotis to the knee length. It is tied on the waist. On the upper part, they wear short kurtas. They are the oldest residents of Bengal.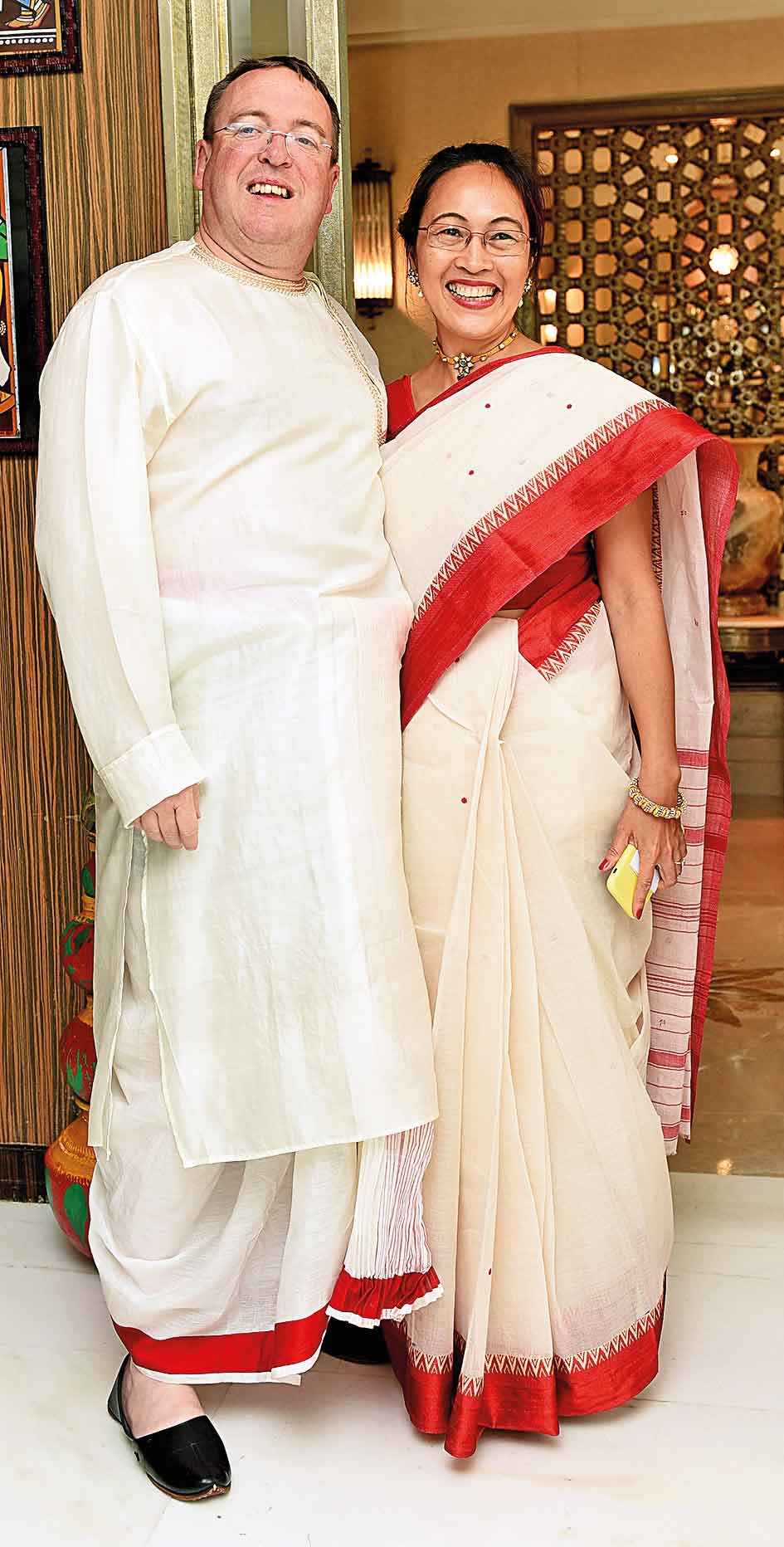 Traditional dress of women in West Bengal:
The Bengali women's are the most beautiful and glamorous ones. You will find it exciting to know about their attires.
Saree is the most common and traditional attire of Bengali women's. They look stunning in sarees. Bengal is the home of sarees. You will get some traditional sarees of Bengal. They are Tant, silk, and cotton sarees. They are available in various prints and designs. The sarees are six yards. They wear a fitting blouse with the sarees. During the pujas women wear red and white sarees with traditional jewelries.
A wedding in Bengal is a beautiful event. The brides wear Banarasi sarees. They are found in different colors.
You will get many women wearing salwar kameez in many workplaces. They give a comfortable feeling to them while they move. The salwar kameez are beautifully designed. They are found in different fabrics and designs.
Jewelry is another unique accessory for the women in Bengal. They wear pure gold jewelry.
The women of this tribe wear white and red sarees to the knee length. They put the saree tightly on the chest area so it remains firm. They do not wear blouses. However, now you can find them wearing blouses with sarees.
Final Thoughts:
Bengal is the land of culture and heritage. You will get ample things to experience here. This is the land of Rabindranath Tagore. So, culture and traditions are found in every part. It would help if you came to this place to explore its beauty in all aspects.
List of Other Indian States Traditional Dresses