One of the seven sisters to the northeastern regions, Mizoram, also known as the Songbird of the Northeast shares outside borders with Bangladesh and Myanmar and inside borders with Manipur, Tripura, and Assam. The basic patterns speak dimensions for the spread of the ethnic heritage of the North East. Persons from this state are proudly representing their traditions and culture worldwide. There are a plethora of ways to understand the way of living of the community and customs of Mizoram. Some of them include attires worn by men & women, infrastructure, resources, cuisines, dance forms, so on.
Being the second least populous state, it is the most beautiful place to live. Widely speaking, Mizoram is notoriously known for their colourful outfits having simple & attractive designs. They include an ethnic legacy of the habitants. Let us discuss what traditional dresses are worn by men & women in Mizoram:
Traditional dress of men in Mizoram: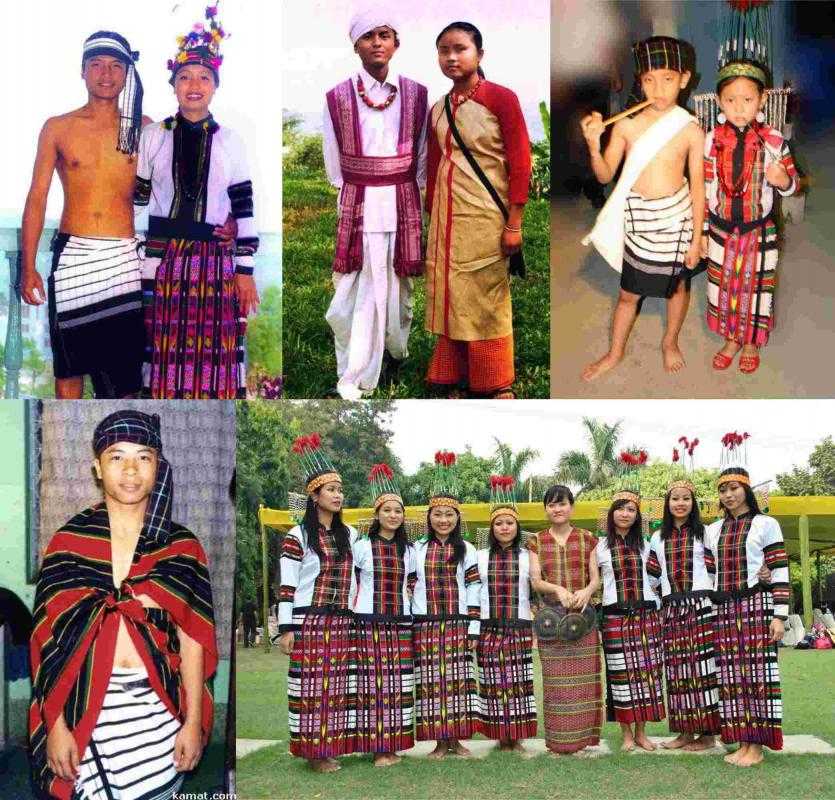 Mizoram men live a simple life which is also reflected in their traditional clothing. They usually wear a long piece of cloth around 7 feet long and 5 feet wide. In addition to these, they wear a white colour coat during the winter season. The common colours most preferred by the males are white and red.
During the summer season, they dress up a cloth wrapped around their waist. Furthermore, they wear a Pagri or Turban to prevent the sun rays. Males who belong to the Lusei tribe in Mizoram prefer cotton fabric in their costumes.
However, the costume differs from one another during festive occasions. There is an interesting fact that the state has a weaving tribe called Hmars, which are known for creating multiple designs. Traditional dress like PuonLaisen is created by skilled experts. This cloth is available in various designs like Disul, SakatZangZie, etc. A handwoven costume like Hmaram, also called KawkpuiZikzial is very popular among girls and children. The traditional dresses of Paiteis are incredibly appealing and attractive to the eyes.
Traditional dress of women in Mizoram:
Puan is one of the traditional costumes worn by women who live in Mizoram. It has a sophisticated design with a flawless fit, making it ideal for Mizoram women.
During festivals, most women prefer wearing Punachei. The attire has shades of white and black, typically made up of synthetic fur. The key costume is ChapcharKut and Pawl Kut.
One of the traditional dresses worn by girls is Kawrechi, a handmade blouse that is worn by Mizo women while dancing on occasion, festivals and functions, and made up of cotton fabric. This dress is usually paired with Puanchei. All of these clothes are produced or weaved by hand.
Women of the lusie tribe commonly wear a stitched blue skirt, made of cotton fabric. This costume is paired up with a piece of cloth wrapped around the body and a white jacket. The dress also comprises a head crown on the top. These headgears are made up of cane and bass.
Unmarried girls of Mizoram tribes wear a blouse having beautiful stripes, called Zakuolaisen. On the other hand, married women wear a dress called Puan Pie. This costume consists of a woven cloth which is mandatory to wear.
Final Thoughts:
Mizoram has a wide range of festivals and costumes to celebrate and wear respectively. The Mizoram culture is very rich due to the existence of various types of tribes living in small as well as big regions of the state. Their people are still unfamiliar with advanced technology and live simple life.
List of Other Indian States Traditional Dresses